I only had time on Thursday for a quick stroll through the hall where the homecraft exhibits are displayed and this was even before judging had been completed, but out of the photos I entered this much I do know.....
For this week's Friday High Five - what I won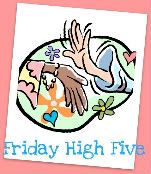 First!! This one took first. I am over the moon because when I took it I thought to myself - that's a good picture! Thankfully the judges thought so too. Also this was in the Advanced category. Really pleased. Mike also entered in this category and
took third
.
This one was good enough to take fourth in the blurred category.
This one was third in At The Fair.
Here's another third - Farm Fence. I feel I must tell you that Mike
took first
in this one and he was certain my picture was better than his.
And I think this is a totally sweet photo of new life on the farm (animals) and I don't think it won a thing. I'll have to take a closer look tomorrow.
I think I entered about a dozen all together. I'm looking forward to having the time to really check them out tomorrow, to see how the rest of them fared (no pun intended).