Fall is, by far, my favourite season. Which seems odd when you factor in all the anxiety inducing "holidays" I deal with (back to school & Halloween). So for this week's Friday High Five: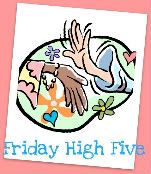 My Five Favourite Things About Fall.....
1. I love the shift in my cooking. I make more soups, stews and casseroles. More comfort food. By the end of summer I am ready to be done with the grilling.
2. The weather. I mean summer is great. I love being in the pool with the kids, but there is nothing like a crisp and cool fall day. Although I'm sure The Mommy Project would heartily disagree.
3. TV nights with the candles lit and my knitting. I don't seem to bother much with either in the warmer months.
4. The fair, as much work and chaos as it brings into our lives, I still love it.
5. I even like the shorter days. Just kind of brings a slower pace to our lives and that is not a bad thing at all.