Christmas hasn't even been on my radar as of yet, which is completely odd for me. I'm usually done my shopping, planning and organizing by now not just beginning. Luckily I feel absolutely no stress about it. Yet, anyway.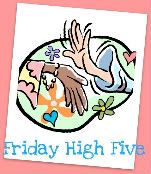 So for this week's Friday High Five - Random Christmas thoughts.
1. This year's theme is all about simplifying and cutting back. We've been working at simplifying our social activities for the past couple of years. This year I'm working on simplifying the gift process too. Everyone's budgets are tighter this year and we're no different. This year it makes good sense to be as fiscally responsible as we can. So if we shop for you - expect less, but I hope more meaningful gifts. Expect gifts from the heart and more gifts of time.
2. I am finding My-Pie pretty difficult to shop for. I have zero ideas. It doesn't help that she says she wants whatever they're shilling on the current commercial she's watching. And I mean everything - from Bakugan to Barbie.
3. On the flipside, The Abster is way too easy to shop for. Maybe because she's older and that leaves me with more options?
4. Plans for Christmas dinners are still up in the air. We know where we'll be Christmas day, but the rest depends on the schedules of others. Hoping to get some plans nailed down soon.
5. The decorating of the house has begun. Abby's little purple tree is up and decorated in her room. Maya's pink tree came out of the box (bought brand new last year, but unopened until this year) missing it's stand. Mike has it out in the garage trying to fashion something out of wood.