Well it's been a while since I partook in a Friday High Five. I'm not sure why, but by the time Friday rolls around I am beat and ready to crawl into bed not long after the kids. Since Christmas is barreling towards us at the speed of light I thought I'd let you take a sneak peek of the 5 things I've got on my wish list to Santa.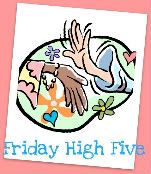 1. A laptop. Oh sure it's a pipe dream, but a girl can wish can't she? Oh I have pined for a laptop this past month as Mike, Abby and I jostled for computer time. Even more so as I struggled to balance the school fair payout sheet. Something tells me it would have been alot easier if I could have retired to my quiet bedroom and locked the door. Then nobody could ask me for a glass of water/milk or to mediate a dispute (often over Polly Pockets) or if I was done yet so they could play Farmville/webkinz.
2. Books. Yes I have stacks, but I have my eye set on stacks more. Like Cookie Craft and the Pioneer Woman's cook book. And Heather Armstrong's book It Sucked, Then I Cried (or something like that). And Born Standing Up by Steve Martin. He's one of my favouritest ever. And The Kids Are Alright, by I can't remember right now, but the review I read made me really want to read it. The latest Douglas Coupland. My own copy of the Twilight Series. Some Nick Hornby. The Sookie Stackhouse Series. Some Kate Jacobs. The Diners Drive in & Dives cookbooks.
3. DVDs. I love dvds. Especially TV on dvd. Season 3 and on of Entourage. Season 2 and on of Grey's. Season 3 and on of The Office. For some inexplicable reason I do not own Christmas Vacation or StepBrothers on dvd. Ridiculous when you figure they are likely the two movies I quote from the most. And I haven't heard, but I'm hoping that The Hangover makes an appearance on store shelves before the big day.
4. Gift cards. I know. Boring. But we just never go to the movies. Or go shopping at Michaels. Or out to dinner at a place with menus they bring to your table.
5. Wii games. I'll let you in on a little secret. I love the Wii just as much as my girls. It's definitely a cold weather activity for us. I can count on one hand how many times it's been on this summer. I'd love some more workout type games. Some more sports type games to play with the kids. Group games like Wii Resort and the like. Bowling is a huge hit here. I think Mario Kart would be fun. Oh and The Price is Right. I love the Price is Right. I could play Plinko right in my own living room. And the lego series. I have the Complete Star Wars, but the others look like fun too.
What's on your wish list?