Now this may have come up before, but it bears repeating, I would really love a laptop. I say a laptop of my own, but who are we kidding. They'd all have their sticky little fingers all over it. And I'm including Michael in that statement. Now I realize that I don't need a laptop, but that doesn't mean I don't want one anyway. Actually after this past week I've come to realize it probably isn't a bad idea at all and for this week's Friday High Five, here's why....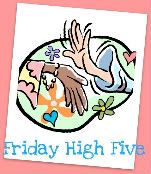 1. Have I told you how much I love
Twitter
? Because I really do. Don't ask me why, because I can't explain it to people who don't already get it. Lucky for me my buddy Normie, from
the Mommy Project fame
gets it. I have found that we tend to live Tweet the same TV shows. Having a laptop would eliminate the need for me to race off to the office during commercial breaks to see if the MP thinks Julie Chen is wearing a
bump it
and a horrendous maternity dress too. And American Idol is just around the corner. More tweeting to do.
2. Photos! I am taking tons of pictures these days. Which is great and fun and all of that, but now I have to teach myself how to use photo editing software. Which at this point may as well be written in greek. I have no idea. It would be nice to be able to take the laptop somewhere quiet to play. Or be able to work away uninterrupted by folks who want to play webkinz world or search kijiji for a used snowblower or download horrible music from
way back inthe 80's
.
3. Maya! I was wandering around facebook the other day when I had to leave my desk chair for some such reason. By the time I got back a moment later Maya was in my seat and had clicked her way through to
playhouse disney
and had started some such game. She's three! And that makes one more person I have to share computer/internet time with.
4. I'm not going to lie. Sometimes it would be nice to use the internet from my bed. Completely frivolous, sure, but even still it would be nice.
5. And finally I don't really have a 5th reason that isn't a rehash of what I've mentioned above. Let's just say I really want one for purely selfish reasons and leave it at that.